a 2-artist show
12 new paintings for Suzy
and a few thoughts put bellow ~
In May 2018, I met Inma Garcia-Carrasco, and in July this new friendship inspired us to work together towards a common goal: we would put on a show together in a year time. In May 2019, each of us presented over ten new paintings at the Newington Gallery in London.

I can't put into words how thankful I am. Thankful of everyone's support, enthusiasm, presence.
Here are the paintings, thanks for looking/reading ♥
Répétitions - Fatima - Inspiration #1 & Inspiration #2 - Pascal - Train of thought - Sketchbook (Spoon) - Drifting Away - P and I - Sketchbook (Sleep) - Self-Portrait - Enso

(as you read bellow, click on the titles for enlarged pictures)

Four of them were presented again in August at the Mall Galleries through the group exhibition In The Studio, 12-17th.
Répétitions, oil on board, 60x60cm

My mum came across a little drawing I had done as a kid, and I got all excited by the perspective in it, which wasn't shy to be wonky. I decided to borrow the lines of young Suzy to see what could happen with paint.
I used newspaper to draw a quick map that became stencils. With oils I started with a limited palette of yellow and blue. I later felt I was missing something so I allowed myself to add some red. Other decisions happened quite unconsciously, playfully and through happy accidents.
It's definitely about embracing the surface being flat, the elements being staged and the optical illusions being free of making sense.
I've been told there's an Alice in Wonderlands feel to it, which I read for the first time afterwards (and obviously loved!). This lady comes probably from the wallpaper border that was covering the walls of my bedroom (although it was not conscious when I painted it). I like to believe she's late to the painting, and just ran to get inside the frame as the snapshot was taken.
Fatima, oil on board, 40x40cm

Fatima's friendship definitely impacted my connection with the painting itself: it felt both facilitated (as if she was encouraging me through this indirect presence) and harder (I wanted to find something of her in it, not a translation of her appearance).

I started with a very crude sketch painted from life. I then only had photographs to work with, which turned out to be quite liberating. I chose to preserve most of the drawing that had happened in those first ten minutes of direct observations. The photographs were helpful but only second to the painting.

I used a limited palette of Yellow Ochre, Steel Blue, Raw Sienna and Titanium White. It's also been a lovely journey between self-discipline and self-indulgence: making the changes the painting needed as much as allowing myself to keep some more spontaneous marks.
I feel I've learned a lot while painting this one.
Inspiration #1 ; Inspiration #2, oil on boards, 60x60cm

The starting points of this pair are Inma and Elia, two friends who inspire me through their art (painting and writing).
Visually, I wanted to look at back-lit situations and to try (timid) mark making.

I completed Inspiration #1 first: the 'low poly' approach comes, I guess, from my background in video games (triangles and flat shapes offer me a reassuring strategy to map things out). The bottom left corner remained a mystery for a while, until it became an echo of the other painting.

Inspiration #2 was quite a battle as you can judge by the in progress pictures. I probably spent as long taking paint off as putting it on. I haven't understood all its lessons yet, but it's been an interesting opportunity to try new ideas.

It is not exactly a diptych, but probably close to it. However/therefore I'm not sure working in 'pairs' or 'series' is what I enjoy the most at the moment.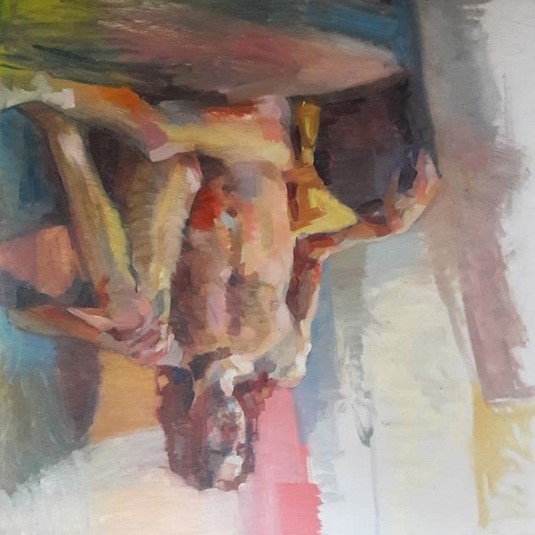 Pascal, oil on board, 40x40cm

This little one was incredibly refreshing to do, from life on a Sunday morning.
While painting it, I was enjoying chasing 'staircases' (the various planes that indicate the form facing up/down/front/sides and which allow us to climb from the toes on the bottom left to the back of the sofa on the upper right).
I like to think I could walk those shapes with my fingers, looking for the strongest way to do the journey.
It was painted over another life session that had gone a bit too everywhere in term of colours. I turned the board around and quickly sanded it down to start this new one, in a more muted palette.

I feel that the few chromatic accents that bled from the initial layer helped me in the process and added something to the result (maybe a kind of vibration and slight depth on what is a relatively settled pose?).

I'm also glad I resisted to overplay the seducing electric accents on the eye socket (I did went overboard, then toned it down, lesson from this one).
Train of thought, oil and chalk on board and canvas, 80x60cm

Probably the painting that grew over the longest period of time.
It tried to be a few different paintings, changed palette and orientation every time, until it became this 'free flow composite image'.

It finally came together with no other plan than the one of allowing myself to follow a train of thought. It started with an unrelated lemon on a bit of off-cut canvas, then organically went:
lemon = yellow = coat = childhood memory = my mum sending extra pictures of more memories + some scrap of paper that had make me think of trains.

And somehow it get emotionally charged through time.

Some decision were purely practical before becoming visual devices too; some where meant to be painted over but stayed; and some were directly thought as such but often toned down afterwards because a bit too explicit.
Sketchbook (Spoon), oil, gouache and pencil on carved board, 60x60cm

I had met Bea through the Mall Galleries and got incredibly curious when I heard she was a woodworker. She welcomed me on a Sunday morning, and I tried my best to record on this board the wonderful activity of carving a spoon out of a log.
The first responses were in blue and brown oils and pencil, with no further plan than being left-handed (so roughly going bottom right to top left).
Bea offered me the spoon and talked me through the last few steps that were needed (sanding it down and oiling it) which lead to three still-life once back in the studio. Done with gouache, it turned out to be an exciting medium to use on gesso, as it would never really dry.
All this woodwork also inspired me to use some carving tools myself, alternatively as a drawing device, a way to bring depth or texture.
When I realised it was like a sketchbook, I wondered if I wasn't doing something artificial by not using paper. I now feel I managed to preserve the immediately of my sketchbook (i.e. turning the surface around, being composite and playful) while extending the range of medium and marks.
Drifting Away, oil and pastel on board, 80x60cm

This painting initially grew over three Saturdays during a 'Portrait & Figure Painting' class with the brilliant James Bland. The first challenge was to respond to life, working on a bigger scale and with more time than I would usually feel comfortable with. Also trying a different approach to colours: starting really simple and muted, and adding colour as needed (while usually I would have been afraid to add a new colour if it wasn't there from scratch).

As the term ended, I lost access to my 'source material' and carried on in the studio. I first tried to pursue in the set direction, refining the figure from memory. But I could only go so far and anyway, I wasn't feeling excited enough to go pass 'the exercise'.
The wall behind her always suggested me a frame in the frame, and I had already enjoyed aligning her arm with where the wall meets the floor. I took some oil pastels, and embraced drifting away from the first plan, drawing with colours.
Drifting away is also the wonderful experience that happen through modelling, thoughts after thoughts, slipping into dreamt realities and confused spaces.
P and I, oil on board, 60x80cm

I wanted to paint an encounter, of him and myself. I've done a fair amount of self-portraits lately, but I think this is one is different, my painting and sketches talking for myself.
Pascal sat for me on a few occasions, but as I was feeling (unreasonably) guilty of taking his time, I painted quite quickly, mostly taking notes from life and then worked further from memory.
The space was first undefined as the sittings happened in different locations. I picked various shapes lying in my studio, including the previous small painting, to fill the right of the picture.
The little sketch 'taped' to the board presents the original idea, when for convenience I had used myself as a reference. It made me happy to include it at the end, it was somehow closing the loop and helping me remember how/why it started.

Not the best painting, but one I love.
Sketchbook (Sleep), oil, pastel and pencil on board, 120x120cm

I realised that this large scale could be just like my sketchbooks, which are quite big too (A3). I particularly remembered a time in April 2018 where I was enjoying doing small gouaches in the middle of a page, surrounded by coloured drawings. I delineated different spaces (white gesso, clear gesso and plain wood) which broke the board into more manageable chunks.

Flipping through my sketchbooks, I saw a recurring fascination for sleeping friends and lying figures: observing someone resting feels like a privilege. The combination of foreshortening and the unusual way the light falls on horizontal faces make you look at a person as if you were seeing them for the first time. Drawing from my drawings felt like revisiting my little library, memories gathered over time.

In the centre, I worked with a model (a first time by my own), starting with pastels to make the task doable in a day. On the top left is baby Suzy. I thought she could be the one dreaming the whole scene (and maybe that's what called for the mobile-like moon + stars?).

Without time to question my choices, this one was a joy to paint.
Sketchbook (Self-Portrait), oil on canvas, 40x30cm

Started in July and last painted in December 2018, this painting came at a time I was scared to put marks if they weren't planed.

For the first time, I reflected on the way I use my sketchbooks and thought I could try being just as free and composite on canvas.

It's now composed of 8 self-portraits, painted from mirrors. They're not so relevant in their ability to channel some inner Sue, as they were more a pretext to paint, and paint, and paint.

Taping, using a frame in a frame, overlaying and revisiting the painting from under as I'm building the one on top, felt like a bunch of little solutions that I found very enjoyable. It was also interesting to see that various colour palettes, paint applications and degrees of focus could coexist in one space.
Enso, oil on canvas, 100x120cm,
collaborative painting with Inma Garcia-Carrasco

When Inma and I decided on this exhibition, we felt the desire to paint each other in one joint piece. We allowed this idea time to grow until it felt the right moment to do it.

After quick thumbnails, we photographed each other from the top of a ladder in order to create on the canvas an image that never directly existed.
We started the under-painting side by side, her painting me and me painting her. Painting together has been key. This usually solitary act became some beautiful moment of friendship.
The painting then alternated between our studios, before everything came together rather seamlessly on a final double session.

The growth of this painting has been quite moving to witness.
(me, happily displaying the exhibition catalogue)